Babaganoush - Eggplant salad

3 medium eggplants                          

 
3 cloves garlic crushed
½ cup mayonnaise
lemon juice to taste
salt and pepper to taste
*pierce eggplants with a fork.
*Broil for 1 hour. (if very large eggplants, leave in for a little longer)
*Let cool, then cut in ½ lengthwise and scoop out flesh.
*Mash and add rest of ingredients and mix well.
Variations; for a creamier texture, add more mayonnaise.
You can add chopped cilantro for more taste and colour.
---
Chummus

2 cups cooked chickpeas (either canned or homecooked*)
1/2 container tahini, mixed well.
1 1/2 cup water
3 cloves garlic
3 tbsp. olive oil
6 tbsp. lemon juice
1 tsp. salt
black pepper to taste
paprika to taste
 *Put all ingredients in food processor. (Ingredients can be added one by one thru the food spout at top.)
*Mix until smooth and texture is creamy.
*Adjust water to reach desired consistency.
 TIP for a nice presentation. Put chumous in a nice serving bowl. Sprinkle paprika and Italian seasoning on top. Drizzle with olive oil. Garnish with whole chickpeas.
---
Mandarin Toss Salad
1 head lettuce, washed, checked and cut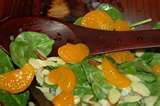 1 can whole segment mandarin oranges
1 scallion, washed and sliced
1/2 cup sunflower seeds
Dressing:
3 Tbsp. canola oil
2 Tbsp. apple cider vinegar
2 Tbsp. sugar
reserved juice from can of mandarins

Add dressing when ready to serve and toss!
ENJOY!
---
Cooked Tomato Salad -

4 onions, diced


2  head garlic, chopped
2 green peppers, diced
2 cans diced tomatoes
1 tomato paste

Saute onions in oil on medium heat until golden (but not brown)
Add garlic and stir another minute
Add  peppers and stir 5 more minutes
Add both cans of tomatoes with liquid.
Cook on medium to high heat uncovered, and stir every few minutes to prevent burning.
Add tomato paste after about 10 min.
Keep stirring until liquid is evaporated.
Add a dash of cayenne pepper at end of cooking.

variation:  For a hot version, substiture jalapenos instead of green bell pepper.  You can mix the two to make it medium heat.

Serve cold, as a dip with Challah at your Shabbat table,and enjoy the leftovers all week, with warm pita wedges, or any other way you like it!