Fish in a Spicy Citrus Sauce:
(prep time 15 min; cook time 10 min)
1 lb. of fish fillet (red or white fleshed)
juice of 1 orange

2 tbsp (30 ml) lemon juice
grated peel of 1 orange and 1 lemon
1 tsp. red pepper flakes
1 clove garlic minced
stir well together
 *rinse the fish (1 lb.-serves 6) in cold running water and dry well with paper towels;
*season the fish with salt and black pepper to taste;
*preheat oven 246C/475F;
*generously butter a baking dish with unsalted margarine;
*coat well with sauce;
*bake for 10 min or until the fish begin to colour and sauce is bubbling;
*sprinkle with minced parsley, if desired, and enjoy.
Thanx to Eugenia Bakshy for sharing this recipe with us!
---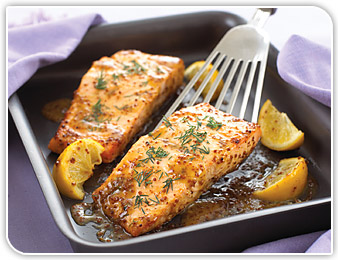 6 6-7 ounce salmon fillets
1/2 cup olive oil
1/4 cup honey
1/4 cup brown deli mustard
4 cloves garlic minced
1/2 tsp black pepper
1/2 tsp salt
3 tbsp. fresh dill chopped (or 6 cubes of frozen dill, placing one on each fillet, and letting them thaw out in oven

*whisk oil, honey, mustard, garlic, pepper and salt in a glass baking dish.
*Add salmon and turn to coat
*cover and refrigerate for 2 hours
*Lighly oil a rimmed baking sheet.  Transfer salmon skin side down to prepared sheet, reserving a cup of marinade for glaze.
*Sprinkle salmon with dill.
*Bake for 8 min. @ 400 degrees.
*Brush with reserved glaze. and continue baking until just opaque in center, about 8 minutes longer.
*Serve warm or cold!
---

1 roll of frozen gefilte fish
(whichever you prefer, I like Raskin's or Ungers)
Italian seasoning

unwrap the roll while still frozen, (you may want to run under tap for a few seconds to help you get the paper off)
Place in a baking pan lined with parchment paper
season with Italian seasoning to taste
Bake at 350 for 1 1/2 hour.