Glazed Chicken:
1 chicken

1 onion
1/2 cup ketchup
3/4 cup brown sugar
1 Tbsp. vinegar
1 Tbsp. soy sauce
3 cloves garlic, crushed
paprika
black pepper
*Preheat oven to 350.
*Slice onion in pan and place chicken on top.
*Sprinkle black pepper and paprika on chicken.
*Bake uncovered for 1/2 hour.
*Take pan out of oven,
*Mix ketchup, brown sugar, vinegar, soy sauce and garlic.
 and pour on top of chicken.
*Bake covered for 1 hour, uncover for another 20 minutes.
---
 Roasted Garlic Chicken and Baby vegetables: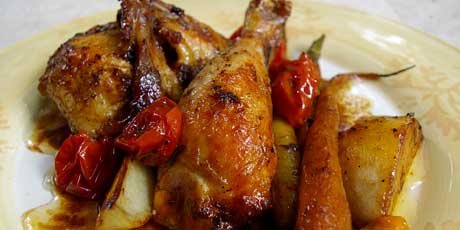 1 chicken, about 3 1/2 lb., cut into 8
20 small fingerling potatoes, or 10 large fingerling potatoes, halved
10 baby carrots
10 baby zucchini
10 baby red bell peppers
3/4 cup olive oil
2 tbsp crushed garlic
1 tbsp paprika
1 tbsp garlic powder
1/2 tsp kosher salt
*Preheat oven to 375.  Spray a roasting pan with non-stick cooking spray.
*Rinse chicken and pat dry.  Arrange in prepared pan.
*Rinse potatoes, carrots, zucchini, and peppers and place in a medium bowl. Add oil, garlic, paprika, garlic powder and salt.  Stir to mix
*Spoon vegetable mixture into the roasting pan, arranging the vegetables under and around chicken.  Make sure chicken skin is coated with oil mixture.  Pour any extra from the bowl to cover the skin.
*Bake, uncovered, at 375 for 1 1/2 hours, or until skin is slightly browned and crispy.  Serve immediately.
---
Curry Chicken
2 chickens, cut in 8, skin off 


2 eggs beaten
Corn flake crumbs
¼ tsp. paprika
¼ tsp. black pepper
1 tsp. curry powder
½ tsp. salt
½ cup sugar
4 tbsp. lemon juice
*Dip the chicken pieces in beaten egg and then in corn flake crumbs.
*Bake uncovered for 30 min. at 350.
*Mix rest of ingredients and pour the glaze on top of chicken
*Cover and bake another 1 ½ hours.
---
Honey Chicken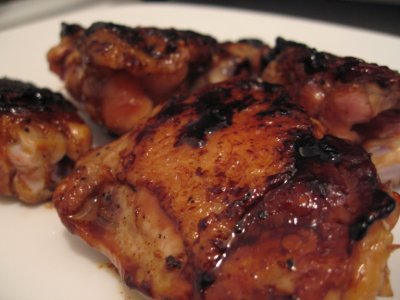 2 chickens, cleaned and quartered
3/4 honey
1/4 cup olive oil
1/4 cup soy sauce
1 tbsp. garlic powder
1 tsp. black pepper
Preheat oven to 375
In a small bowl, mix together honey, oil, soy sauce, garlic and black pepper.
Pour over chicken.
Bake uncovered for 1 1/2 hour unti shiny, dark and glazed (or 1 hour until slightly browned, if you prefer it less done )