Broccoli Kugel:
1 (2 lb.) bag frozen chopped broccoli c

uts, thawed and drained
1 cup light mayonnaise
4 eggs
1/2 tablespoon kosher salt
1/4 tsp. black pepper
pinch of cayenne pepper
*Preheat oven to 375
*Liberally grease a 9-inch round baking dish
    (preferably a pretty oven to table dish)
*In a large bowl, place broccoli, mayonnaise, eggs, salt, black and cayenne peppers and mix well.
*Pour broccoli mixture into prepared baking dish.
*Bake at 375 for 1 hour and 15 min. until set and golden brown.

My Mother in-law's Potato Kugel



10 potatoes
1 onion
6 eggs
2/3 cup oil
1 tsp. salt
black pepper to taste
preheat oven to 450
grate 5 potatoes and set aside
chop the other 5 potatoes in a food processor
add onion, eggs and oil, pulse until well blended
mix with grated potatoes, in a mixing bowl
add salt and pepper
pour 2 tbsp. oil into 9x13 baking pan and place in hot oven for 1 minute
take out the pan, pour batter over hot oil carefully
bake at 450 for 1 hour.
String Bean Stir Fry
2 1bs green beens, washed and trimmed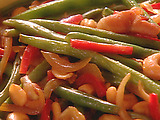 1/2 each of yellow, red and orange pepper, sliced in long strips
1 carrot sliced in thin strips
1 purple onion, sliced in rings
1/2 head of garlic, crushed
salt to taste
black pepper to taste

Heat oil in a large wok or pot
saute' onions for a minute
add peppers adn carrots for 1/2 a minute and continue stirring
add green beens and stir for 5 more minutes
add garlic, salt and pepper to taste and stir a few more minutes over high heat.  Best served while still warm!
Enjoy!
Variation: String Bean Stir Fry with chicken:  2 chicken breasts cut in thin strips.  Add chicken to onion before any other vegetables. and brown for a minute on high heat stirring constantly.  Then add other vegetables.  You can use 2 onions and a full head of garlic.